Reference projects
Contaminated sites – the environment
GuD has been making assessments of contaminated real estate for over 25 years. It is our goal to detect and eliminate environmental risks using the proper inspections and action plans, to enable a sustainable use of the sites.
Waste management inspections
Engineering related waste management inspections are done either as preliminary and exploratory inspections or to determine a specific waste disposal option as a declaration investigation of soil, construction waste or demolition materials. Since, depending on the type of waste and pollution impact, a variety of disposal options have to be considered, the scope of inspection tasks will vary (such as the LAGA Directive on soil and construction waste, landfill ordinances, decrees on construction debris or rubble and the acceptance criteria of the relevant disposal facility). Declaration inspections are done either on piled up material or ahead of time as an in-situ investigation using excavator samples. GuD works out region-specific concepts and makes its assessments in accordance with country-specific requirements.
Contaminated material inspections i.a.w. German Federal Soil Protection Act - BBodSchG
Contaminated materials can be expected at an abandoned industrial site if substances had been used there, possibly in larger quantities and for longer periods of time. In addition, the respective operations, management and procedural approaches or disruptions in the proper operation of the company (leaks, major breakdowns) probably have caused considerable ingress of such substances into the soil and the groundwater. GuD provides the complete range of contamination inspections in accordance with the German Federal Soil Protection and Contaminated Sites Ordinance (BBodSchV):
Historical exploration (HE)
Initial investigations (OU)
Detailed studies (DU)
Risk estimates
Rehabilitation assessments
In addition to the classic investigations like drilled holes or pumping tests, we also use special procedures like semi-quantitative MIP-pressure probes, direct-push sampling, the determination of groundwater flow rate and direction like groundwater flow visualisation (Gfv) as well as tracer experiments.
Microbiological degradation experiments seem sensible as part of the redevelopment examinations or possibly a comprehensive pollutant analysis as an indicator for degradation processes.
Initial state report (AZB) according to IED
An initial state report, in accordance with the Industrial Emissions Direction (IED), is necessary for an expansion, renovation, or for new construction of many industrial plants. The initial state report serves to represent the initial state of the soil and groundwater and evaluate it with regard to the list of substances to be used in the systems in the future. This makes it possible to evaluate the consequences in the event of a later adaptation/closure of the regions. GuD authors such reports usually for plants in the energy sector, metal processing and waste management, that could possibly have a particularly high environmental impact on soil and groundwater.
Waste and disposal management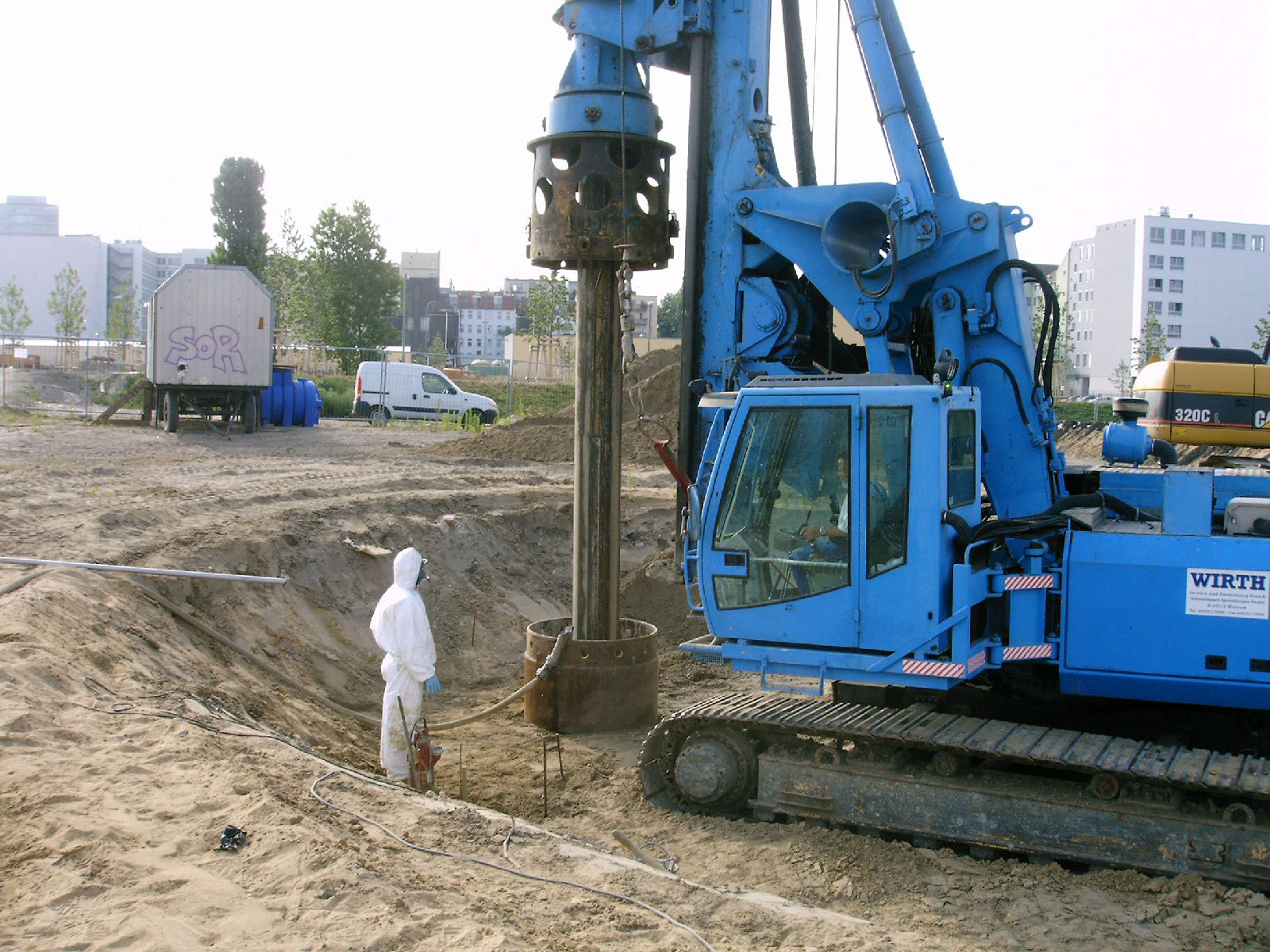 Any construction project will generate waste material that have to be disposed of properly. The appropriate soil, waste and disposal management approach ensures that most contaminated waste material is already separated during excavation or demolition and that suitable as well as economical ways of disposing of them have been lined up; provided that there is no recovery path possible on the construction site itself. Greater efficiency can be achieved through the early involvement of experts, which will contribute to the optimisation of disposal costs as well. Since the introduction of the electronic verification directive (German eNAV), GuD owns readers and cards as well as the appropriately trained experts who are still working on numerous projects. GuD primarily uses the ZEDAL method.
Environmental Due Diligence / location evaluations
An Environmental Due Diligence (EDD) inspection identifies and evaluates environmental risks such as pollution of the soil, groundwater or the building structure of a property on the basis of existing documents as well as an on-site inspection. Generally, this is done without taking samples on the site. The EDD can be issued at different processing levels, either as a simple questionnaire, a so-called "Red Flag Report", or as a comprehensive EDD investigation and report.
Groundwater monitoring
Groundwater monitoring can be used for many reasons like measuring pollution, forecast of development, evaluating groundwater contamination (degradation or propagation). During this process monitoring serves in the functions of definition as well as supervision of the remediation and protective measures. The Monitored Natural Attenuation (MNA) procedure observes processes in the groundwater or in the subsoil. GuD has experienced staff members to complete the conceptual design, the accredited sampling, and the final evaluation. This also includes monitoring functions to oversee water containment at construction projects.
Concepts and coordination of work in contaminated areas i.a.w. German Society for Mandatory Accident Insurance (DGUV) Rule 101-004 (formerly BGR 128)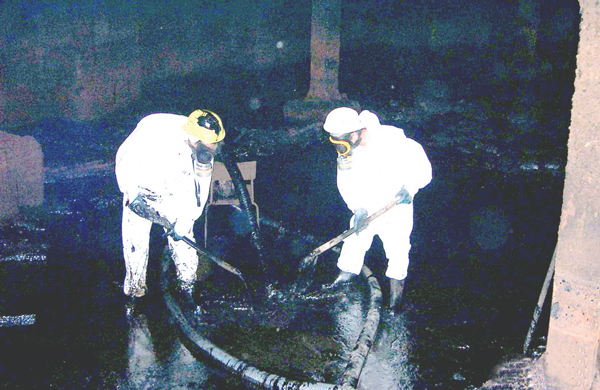 The correct handling of hazardous material is particularly important where humans and the environment have to be protected from such exposures. Industrial safety in technical and organisational areas must be a priority; deployment of personnel in the contaminated area should be kept to a minimum. GuD has released occupational safety and immission protection concepts as well as working and safety plans for actions that could involve harmful or hazardous substances. We also have experienced staff that can take on the duties of an occupation safety coordinator i.a.w. DGUV Rule 101-004.
Quality assurance
In addition to the DQS certification according to DIN EN ISO 9001:2015 GuD has been accredited since 2006 to DIN EN ISO/IEC 17025:2005 for a comprehensive range of services in the following industry sectors: waste, hydro, soil and contamination sites including sample collection of solids (e.g. soil, waste material) as well as groundwater, seepage and surface water. These accreditations conform to Section 18 of the Federal Soil Protection Act (§18 Bundes-Bodenschutzgesetz BBodSchG) and list GuD as an approved testing facility.
Restoration and protection measures
The inspection, planning and remediation of contaminated sites should always be run with reasonable allocations. The cost-benefit ratio as well as environmental protection, the ecological balance and the sustainable success of the selected measures are all focal points of the work. Collaboration of the experts from environmental concerns, the classical geotechnical, and special civil engineering services ensures at GuD that the appropriate procedures are planned and found for rehabilitation or protection, observing all necessary work and immission protections. Upon your request, GuD can also accompany and supervise the implementation of these rehabilitation and protection projects with the needed expertise. Our applications include: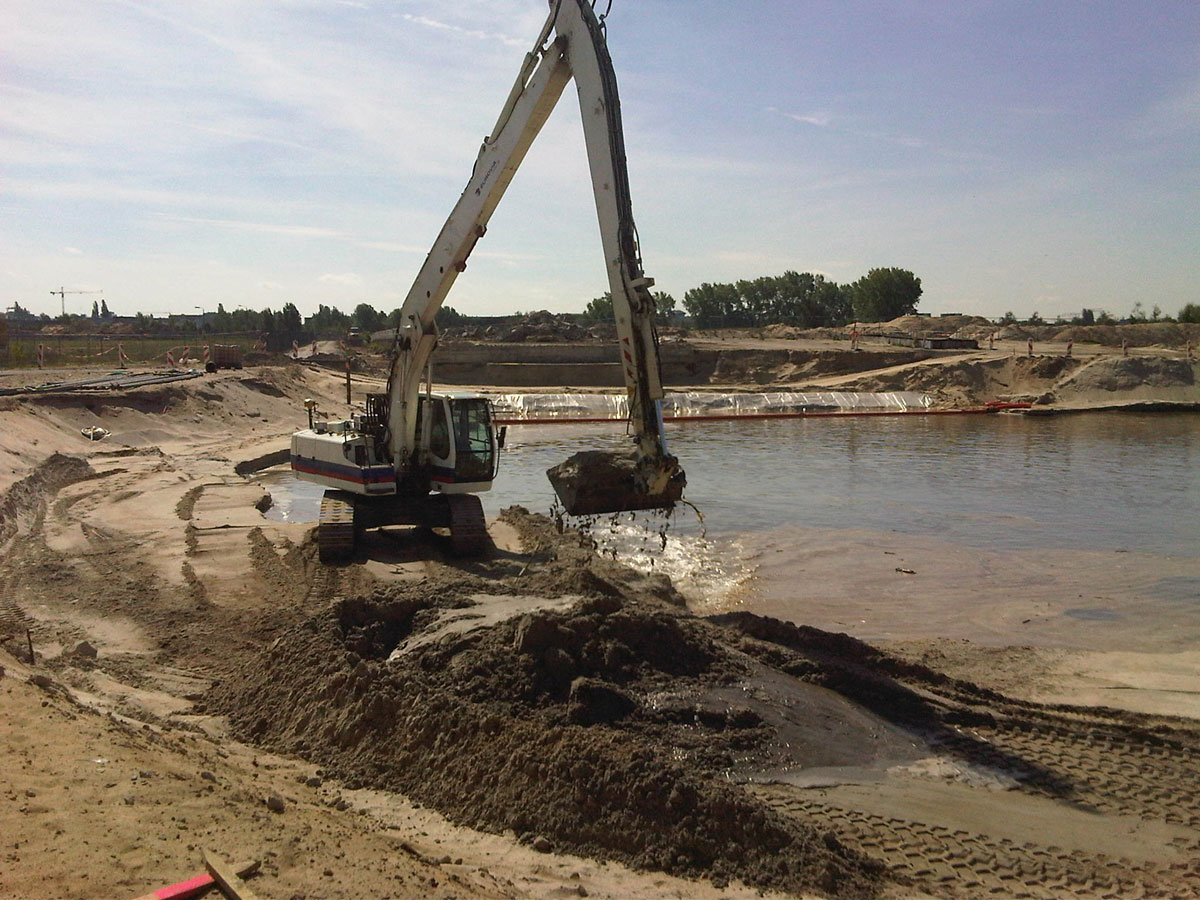 Classic soil exchange like excavation pits, large hole drillings or honeycombs
Remediation / protection using the "pump & treat" method
Thermal in-situ remediation of easily released substances (THERIS)
In-situ chemical oxidation process (ISCO)
In-situ ground washing (OSBO)
Under suitable conditions the microorganisms already in the soil could be trusted to handle the situation, often they only need to be "awakened". Microbiological degradation processes are observed (Monitored Natural Attenuation, MNA) or set in motion (Enhanced Natural Attenuation, or ENA).
GuD supervises remediation and protection projects for clients from both the private as well as public sectors in the functions of planner or controller (remediation controlling) within the contexts of plan design and contamination removal on through to aftercare (monitoring).
Flow and contaminant transport modelling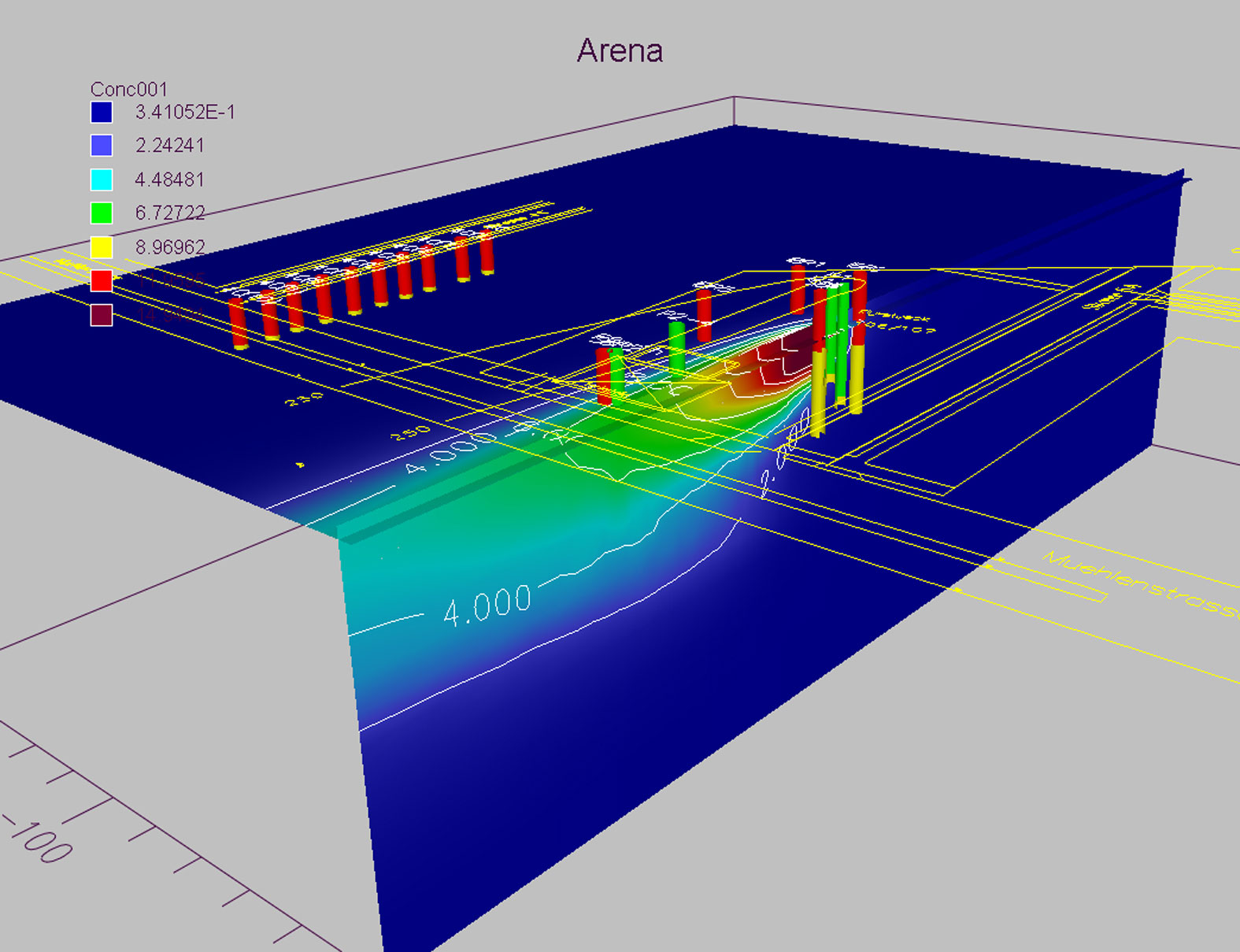 The effort needed to plan and monitor groundwater remediation is often so complex that 2D or 3D-FE analysis is necessary. Simple flow models of the pollutant source can trace outgoing streamlines, for example, to optimise the position of the remediation wells. In addition, transport models make it possible, taking into account propagation, deposition and degradation processes, to make much more accurate statements about spatial and temporal concentration distribution of pollutants as well as the duration of remediation approaches. GuD uses the programmes MODFLOW or FEFLOW for these projects.
Download Flyer: Waste, Contaminated sites, Occupational Health and Safety