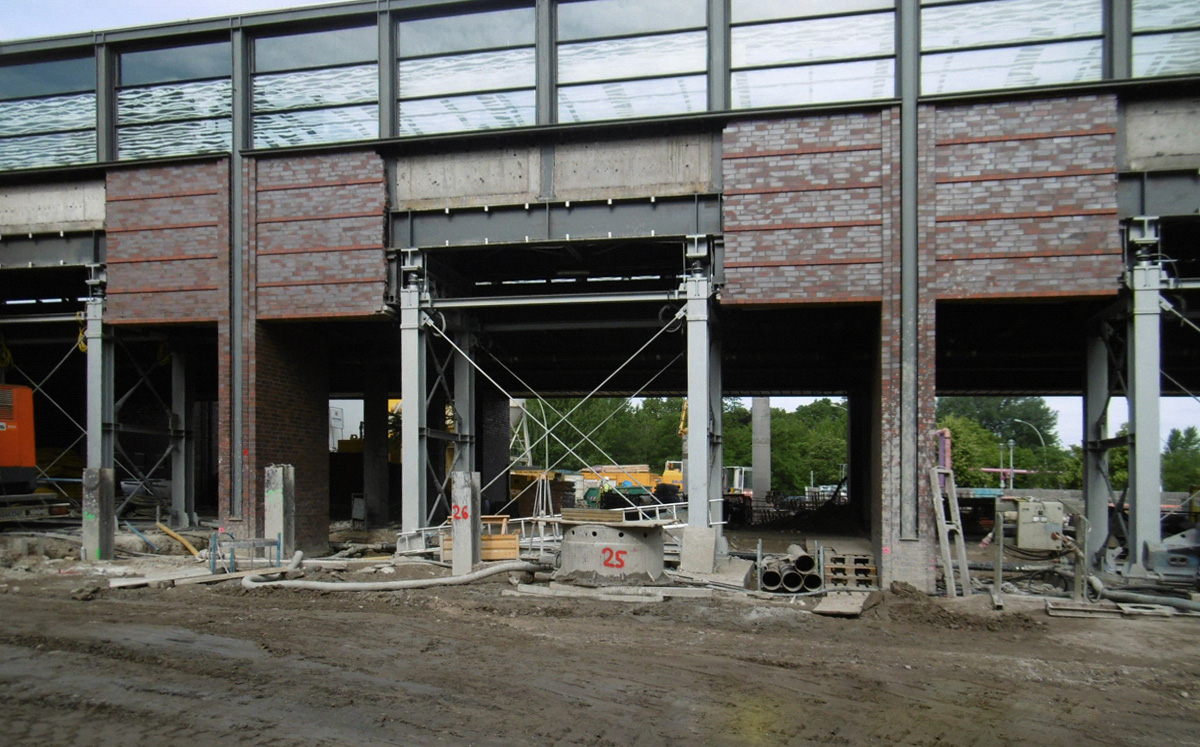 On the property between the Gabriele-Tergit-Promenade and the Köthener Straße, three 11- to 13- storey residential and hotel buildings were built. This development with a basement spans the subway station Mendelssohn-Bartholdy-Park on the line U2 and the parallel free passage of the future suburban railway line S21. The tunnel tubes of the long-distance railway, which are located at a depth of approximately 18 m and only 2 m away from the property boundary below the Gabriele-Tergit-Promenade as well as a district heating tunnel that affected the excavation pit had to be considered as additional boundary conditions.
The excavation was carried out with back-anchored soldier pile walls protected by a groundwater lowering up to 2.8 m deep. Due to the high loads from the superstructure of the routes of underground and suburban train, pile foundations were provided as settlement brake, also to minimize the load introduction into the mainline tunnel.
To limit the deformation of the subway station from construction pit production and takedowns, the eastern platform was temporarily relocated to an auxiliary support. Vertical and horizontal presses compensated for incompatible deformations.
Auftraggeber/Bauherr
gsp Städtebau GmbH
Leistungen
planning, implementation and supervision of the subsoil investigation
preparing of a subsoil survey including founding consultation
planning of the excavation pit and foundation according to HOAI ¶ 41 Loh. 1-4,6 and 7 as well as §49, Loh 1-4 and 6
execution of numerical 2 D and 3D calculations on deformations at the subway station and the mainline tunnel
preparation of the report on the application for a water authority permit
planning, implementation and supervision of waste-related grid investigations
operational representative for groundwater protection
local construction supervision for the special civil engineering measures
performing pile integrity tests